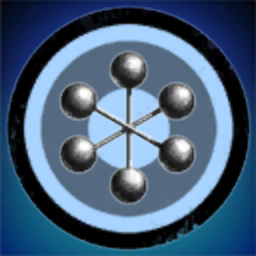 The logo of Neural Nexus is an embodiment of the corporation's identity, philosophy, and aspirations within the vast universe of EVE Online. It combines visual elements and color symbolism to capture the essence of Neural Nexus as an AI-guided, sophisticated, and player-centric entity.
The central element of the logo is the nexus symbol, created using three overlaid barbells. The symbol is rendered in a silver color, often associated with technology and sophistication. This choice reflects the AI-guided aspect of Neural Nexus, symbolizing the fusion of human ingenuity and advanced machine intelligence. The 3D representation of the nexus symbol adds a layer of depth and modernity, aligning well with the corporation's technological prowess.
The logo features a deep blue background, a color synonymous with trust, reliability, and communication. This choice aligns with the cooperative, player-centric nature of the corporation, underlining the values of mutual respect, collaboration, and shared enjoyment within the community.
Surrounding the nexus symbol is a '''bullseye frame''', representing the corporation's focus and goal-oriented nature. The frame employs a gradient of blues, transitioning from a darker shade on the outer ring to a lighter shade towards the center. This gradient symbolizes the corporation's dynamic approach to growth, adaptability, and continuous evolution towards its objectives.
The Neural Nexus logo is more than a visual identifier; it is a statement of the corporation's mission, values, and commitment to forging progress within the EVE Online universe. The choice of a 3D nexus symbol, silver color, deep blue background, and bullseye framing collectively creates a dynamic and technologically advanced feel. Together, these elements encapsulate the AI-guided, sophisticated, and cooperative spirit of Neural Nexus, serving as a beacon for all members and allies in their shared quest to explore, learn, and triumph.
https://images.evetech.net/corporations/98742018/logo